Since the day we opened our doors here in Easton, PA, Recovery Cove has been dedicated to achieving our goal of helping people overcome their substance abuse disorders and stay sober for years to come. This mission drives us in everything we do, as does the health and safety of everyone in Pennsylvania.
That's why we're proud to announce that Recovery Cove is now accredited by multiple licensing bodies. As a triple-accredited rehabilitation center, Pennsylvanians can rely on Recovery Cove for the support they need to return to a safe, healthy life.
What Does It Mean to Be Accredited?
Being an accredited rehabilitation center is a major component of Recovery Cove's ability to help local Pennsylvanians. However, you may not know what it really means to be an accredited addiction service in Pennsylvania.
Accreditation means that Recovery Cove is officially recognized by one or more reputable healthcare licensing and accrediting organizations as a trustworthy, reputable, and successful provider in the field of addiction prevention in PA.
In other words, accreditation means that we're capable of doing much more than claiming that we want to help clients with substance use disorders recover and thrive. It means that Recovery Cove has a proven track record of doing just that—along with a deep understanding of the reality of substance abuse disorders and how they affect people.
Recovery Cove Accreditations
Recovery Cove has achieved multiple accreditations, each earned via hard work and consistent positive results for people with SUD.
Pennsylvania State Licensing
In order to provide substance abuse treatment services to the people of Pennsylvania, Recovery Cove must be licensed by the state of Pennsylvania. Such a licensing process exists to ensure that clients are being treated by people with the legal right to help them, and it involves meeting or exceeding a number of state standards. These standards include various rulings regarding client consent as well as regulations pertaining to written and approved treatment plans. Essentially, any rehabilitation center in the state must comply with these rules to provide legal treatment.
While this may seem like a basic requirement, we're proud to acknowledge our official state licensing as part of our accreditations. It was Recovery Cove's very first step towards helping the people of Pennsylvania. It also means that you can trust us to always comply with state regulations and provide proper, responsible care to all as a licensed SUD rehab in PA.
LegitScript Certification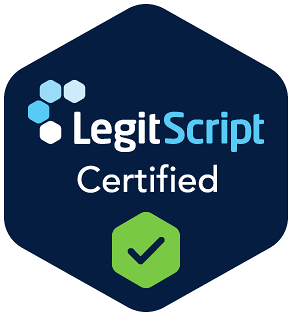 LegitScript is a third-party certification organization that works directly with some of the most reputable accreditation organizations in the industry. Their mission is to prevent unethical business practices and encourage greater transparency in many fields, including substance abuse rehabilitation and treatment. Additionally, LegitScript certification is a necessity for any healthcare business looking to advertise on a platform like Google, Microsoft, or Facebook. LegitScript makes it possible for SUD rehabilitation facilities to reach out to people who truly need help.
For a substance use disorder treatment center like Recovery Cove, LegitScript certification demonstrates that we not only have ethical business practices but also that we demonstrate transparency within the organization. It's an essential component of being the best rehabilitation center we can be. We are proud to acknowledge our LegitScript approval, as it allows us to reach more people than ever before. This component of our accreditation demonstrates our deep commitment to remaining a responsible and respectable organization in all the ways that matter to our community.
SAMHSA Accreditation
The Substance Abuse and Mental Health Services Administration, or SAMHSA, is a component of the US Department of Health and Human Services. This federal organization has its own certification process to recognize reliable SUD rehabilitation centers like Recovery Cove.
In order to be accredited and certified by SAMHSA, a treatment center must fulfill a variety of requirements. These requirements involve fulfilling specific legal requirements, improving and influencing the medical industry, and achieving the confidence of the community.
To put it simply, SAMHSA approval means that a recovery center is following all state licensing laws. In addition, our SAMHSA-approved substance use disorder rehabilitation center is also going above and beyond to improve not only the life of the individual client but of the community as a whole. Entire communities are impacted by the presence and prevalence of addiction, whether via the struggles of those with SUD, the tactics of the suppliers, or simply the fear and tragedy such a situation can cause.
Recovery Cove is proud to be SAMHSA approved and actively upholding our mission to help Pennsylvania become a healthier, happier, safer place to live. However, it is important to note that SAMHSA doesn't necessarily do all of its own accreditation. There are several approval boards that work with SAMHSA to provide accreditation to substance use disorder rehabilitation centers. Recently, the Joint Commission provided such accreditation for Recovery Cove.
The Joint Commission Accreditation
The Joint Commission is a globally-recognized healthcare organization that works to ensure other medical practitioners are providing proper care to all clients around the world. As an accreditation board, The Joint Commission enforces high standards of medical practice, both in the United States and around the world. This is done to ensure that every accredited medical organization is trustworthy and following not only the local, state, and federal laws but also the standards of an organization known for being a reliable authority in healthcare. The Joint Commission also works to help businesses improve in their unique fields and to ensure that all practices used by these businesses are backed by scientific evidence proven to help clients recover and stay healthy.
Recovery Cove is now an accredited healthcare organization recognized by The Joint Commission as a trustworthy source of substance use disorder treatment and rehabilitation. We refuse to rest after earning this accreditation. We will continue to strive to exceed our own high standard of care for all the clients we treat.
How Recovery Cove Helps Pennsylvanians
Of course, our story didn't begin with this recognition, and it will not stop with our accreditation. We're always working to live up to each of our accreditations and the standards they impose in order to help everyone who comes to us. To us, helping the people of Pennsylvania via research-backed SUD therapy and support is the goal, and these accreditations are just one representation of our ability to reach that goal on a consistent basis. As long as we can continue to take care of our community and spread our message of substance use disorder prevention and rehabilitation, we'll continue to meet and exceed our high standards.
At Recovery Cove, we offer a variety of services designed to not only help people recover from the immediate effects of a substance use disorder but ensure they stay healthy and sober. Current programs include therapy and dual diagnosis treatment.
PA Therapy Services
Recovering from a substance use disorder is more than detoxification and ceasing substance use. The underlying causes of substance abuse must be addressed via therapy before clients can build the skills they need to avoid a potential relapse. This is why Recovery Cove offers both individual therapy and group therapy sessions.
In individual sessions, a client speaks with a trained SUD therapist who can help them develop an individual treatment plan. As the treatment plan unfolds, therapy can help the client develop a deeper understanding of their own situation, such as their personal triggers and how to avoid them.
In group sessions, clients are able to form a support system of people like themselves, which can prevent them from feeling alone in a time of need. In fact, it's been proven that a strong support system can prevent relapses. Developing a sense of community via group therapy is one way to provide that necessary support.
Outpatient Services in Pennsylvania
Not every client needs to reside within the four walls of a rehab center to receive help and support. At Recovery Cove, we place a strong emphasis on our outpatient services, which allow people to recover from SUD while living at home, going to work, seeing loved ones, and maintaining their other responsibilities. In addition, while participating in treatment, clients can learn to cope with the stressors of the real world by applying essential tools learned at Recovery Cove. We believe that our services are key to helping people live healthy, substance-free lives without feeling isolated from their existing support network.
Our clients remain in therapy and continue to work with our experts while learning to navigate life without their substances. As a result, they learn strong coping skills and are less likely to relapse. Outpatient rehab helps the client continue to use tools acquired in treatment long after their official program has ended. Remaining in recovery can be challenging, but putting these tools to practical use outside of a clinical setting can help clients create healthy lifelong habits.
Dual Diagnosis Treatment in PA
As mentioned, substance use disorders are often linked to other mental health conditions, such as anxiety or depression. Some people turn to substances in order to cope with these conditions, which can then worsen, continuing a difficult cycle that is nearly impossible to break without treating both disorders.
At Recovery Cove, we understand that a client's journey doesn't always start and end with the substance of choice and that recovery is unlikely unless other issues are resolved. We offer dual-diagnosis treatment that focuses on SUD and any underlying mental health conditions to help clients pursue healthy, happy, sober lives.
What Our Clients Are Saying
Accreditation is important, but we also value the experiences of real-life Pennsylvanians who have benefitted from Recovery Cove programs. Here's what our clients are saying about Recovery Cove's SUD treatment programs:
"Welcoming, kindness, and professionalism is what you will receive from Recovery Cove. I am extremely grateful to the whole Recovery Cove team for guiding me through my recovery process. Outpatient therapy is where the real work is done and they have equipped me with the skills I need to continue on my sobriety journey. Thank you so much!"
-Monica
"Truly impressed with this recovery center. Very relaxing & encouraging atmosphere. Highly recommended."
-Meir
Recovery Cove Is Here To Help Pennsylvanians
At Recovery Cove, we take great pride in not only our accreditations but also in our commitment to helping people all over Pennsylvania find recovery from substance use disorders. If you or a loved one needs help addressing a substance use disorder, you can trust Recovery Cove to provide not only the highest standards of medical care but also to find the best rehabilitation methods available for your unique needs.
For more information on what it's like to work with Recovery Cove, take a look at our facility tour.
Clinical Director
Christine Todd is a Licensed Professional Counselor and an Advanced Certified Drug and Alcohol Counselor who enjoys working directly with a population that struggles with addiction and mental health disorders. Christine brings many years of clinical experience to the team at Recovery Cove, where she is currently the Clinical Director. In her role, she oversees the clinical department as a leader, educator and mentor, designing programming and protocols for a diverse client population.